Review: Daiesu Sunset – Ring Sling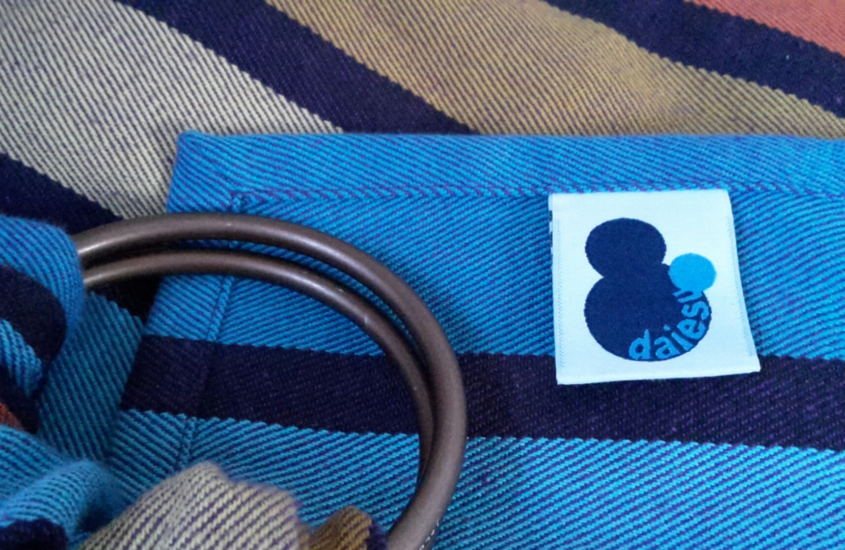 When first asked to write a guest review for Slingdad Dom, I was completely unaware of Malaysian company Daiesu, or their fabulous collection of slings.
Daiesu is a project born from experience. Founder Ilyani had been wearing son Daie from 1 month old, starting with a stretchy wrap as a means to keep him calm and close. Once he grew, that was where the exploration of woven wraps began and the birth of the Daiesu brand.
Daiesu wraps are designed in-house in Malaysia and woven in India. They source quality organic cotton and materials safe for use with children. The company message is clear and simple; "We hope to contribute in spreading the love and all the goodness of babywearing."
Sunset is 100% organic cotton transformed into magnificent shades of yellow, blue and black stripes, in a diagonal weave. You have the option of three wefts: Toffee, Emerald and Violet, in this case I had the Violet to test. Sunset is Daiesu's second wrap in a striped pattern, following its predecessor, Fiesta. Although it is said to wrap like Fiesta, Sunset has been woven a little denser at 260gsm, making it supportive and incredibly soft.
The collection of blue, yellow and black fills the mind with imagery of sitting on a beach, watching the yellow sun fade into the blue ocean. Alongside the mental images, the colourway makes this a unisex carrier that is accessible to both mum and dad. When I demonstrated the Sunset at a sling demo session, mothers expressed how much this would suit their partners.
The colour selection is hugely complimented by the large Bronze rings, which really stand out and catch the eye. Sunset is available in 2 sizes (Small and Medium), both with a gathered shoulder. If that wasn't enough, it also comes with a handy Daiesu canvas tote bag!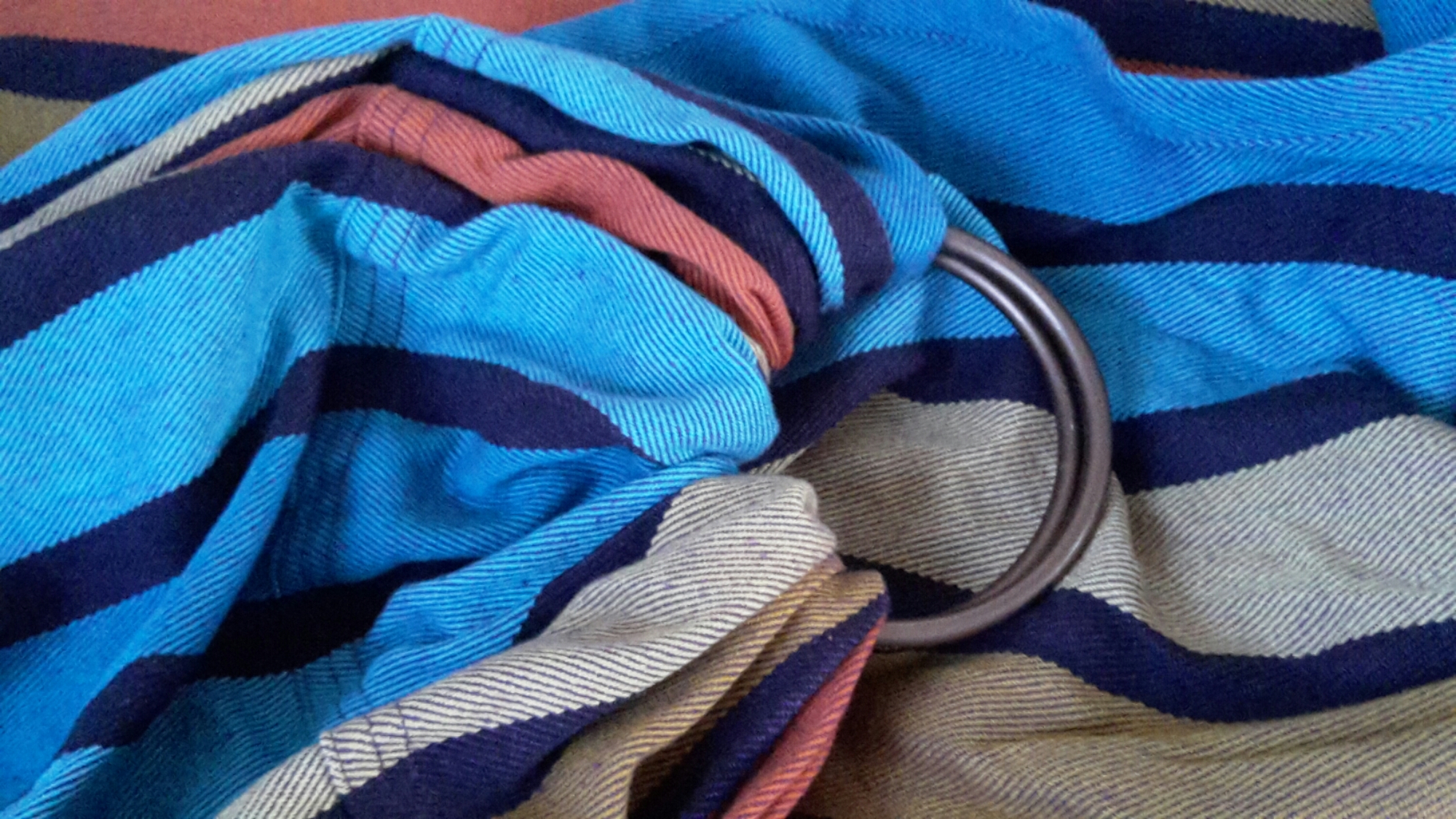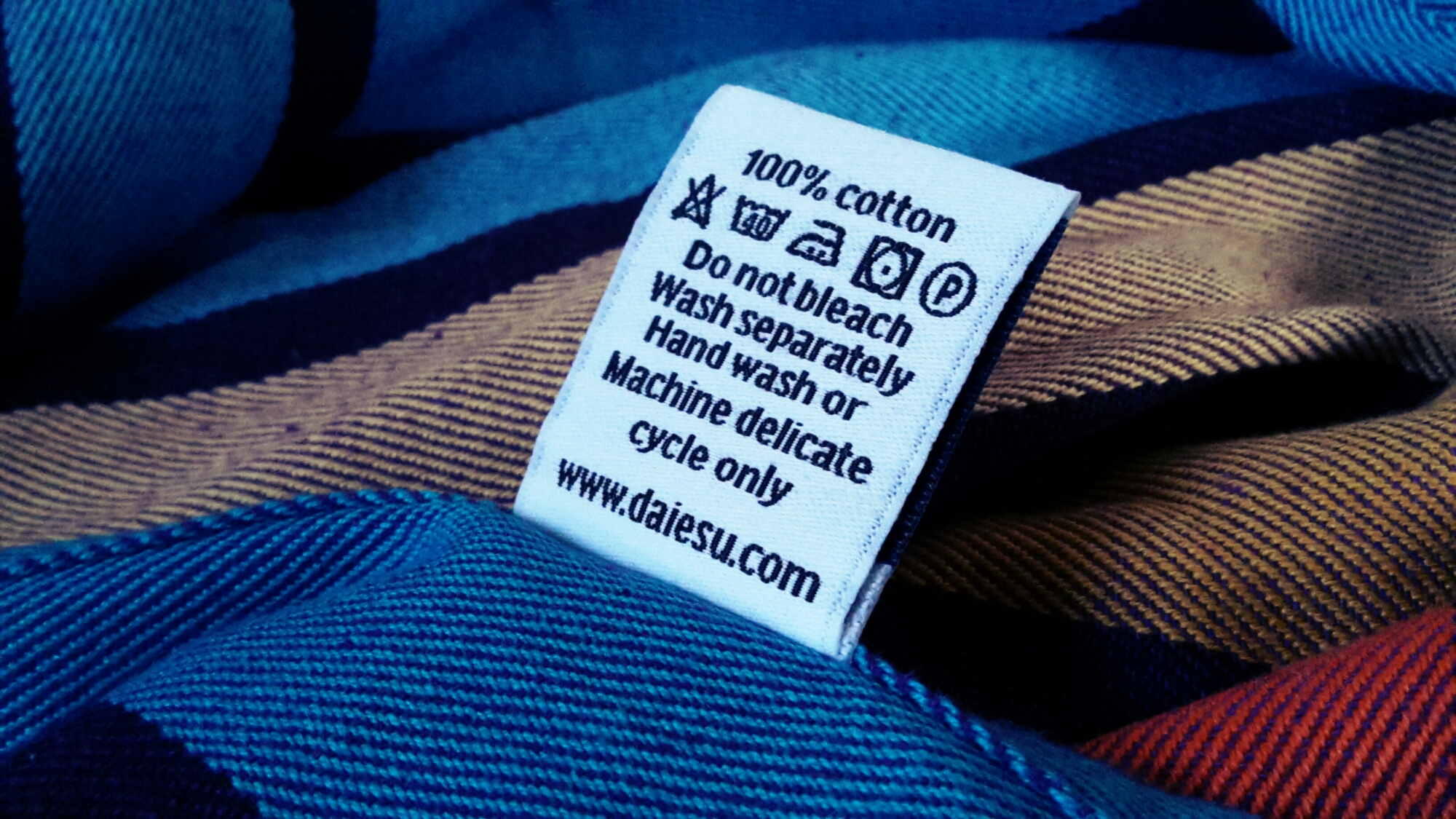 I had a certain amount of uncertainty when it came to trying a 100% cotton ring sling, which can be less grippy than say, a linen or hemp blend. The Sunset however, not only laid that uncertainty to rest, but tucked it in for the night. As ring slings go, this was as grippy as my own Hemp blend, but with the softness that comes with 100% cotton. Pulling the fabric through those striking bronze rings, was smooth and fluid.
The answer to why the material holds so well, could be in the fabric itself. It is an incredibly tight weave that holds its shape beautifully and would be a feat to pull or break a thread.
It is a wonderfully cushy fit on the shoulders, passing the test of a long walk through the city centre, with a tired and fidgety two year old. This is a great testament to the gathered shoulder, firm yet incredibly comfortable.
Suitable from newborn to toddlers, Sunset is available through the company website for order. The only difficult choice to make is what weft and what size will suit you best.
Whichever you choose, once you try a Sunset, they are impossible to forget. If Daiesu continue to create such visually stunning and hardy slings, they are set for a long and sunny future.