Woven Wings Review: Aquamarine and Thistle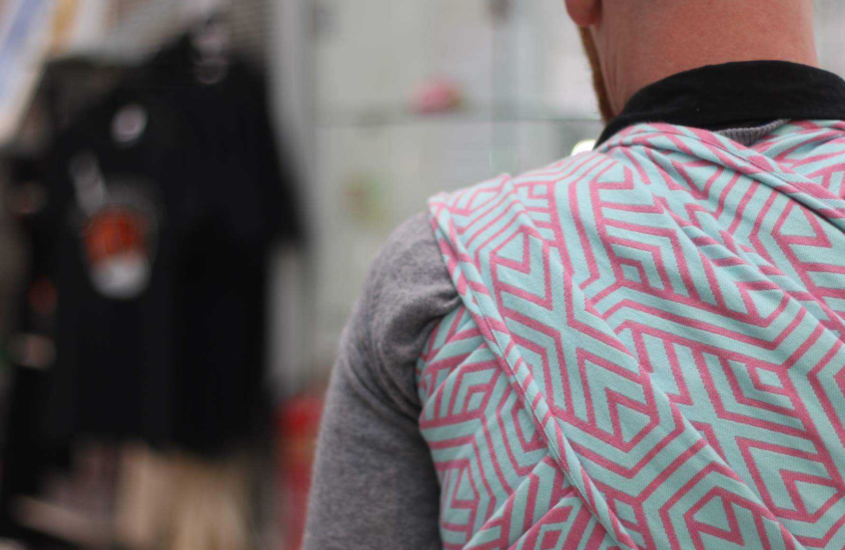 When first asked to host a tester for Woven Wings, I was completely unaware of what might come my way and was given no indication of background. So when I opened up this package and saw the pale blue and pink wrap, with a note explaining that this was the exclusive wrap for the Northern Sling Exhibition, I was excited to give it a go.
Woven Wings have a strong and prestigious heritage, with their wraps designed and woven in the UK, at a unique luxury fashion mill. Alongside the wraps being intrinsically linked with the UK and UK based companies, they also have a deep connection with their product, sourcing yarns and checking animal welfare being of the utmost importance.
Founded by Christina Mitchell and Sarah Condry, both qualified in art and design and with a passion for baby carrying, they set about establishing a business that has grown into a powerhouse of intricate design and supportive fabric blends. Christina Mitchell stated that her "… vision for the company is not only to manufacture woven wraps, it is to look at ways to make babywearing more accessible…"
Aquamarine and Thistle is part of the Crayons collection, with 76% combed cotton and 25% Egyptian cotton transformed into pastel shades of blue and pink, in a Woven Wings' signature Geometric design. Set for an exclusive release at the second Northern Sling Exhibition, Sheffield's celebration and education for all things slings, Aquamarine and Thistle is an anticipated wrap from one of the Silver Sponsors of the event.
Sending my head back in time to 2014, the colours are reminiscent of past release Honourable Ringed Kingfisher, but replacing the linen with increased cotton content and a seemingly more pastel colouring in comparison. The next in the Crayons collection following Sea Green and Timber Wolf, Aquamarine is the sibling with a new look, but the same blend and the same wrapping qualities. Firstly the looks. This collection of blue and pink verges on pastel, but also has a hint of bubblegum in certain lighting. It's colourway makes this a unisex carrier that is accessible to both mum and dad, providing versatility across the two sides.
I had my reservations when it came to a full cotton blend wrap when carrying my four year old preschooler and was concerned it would be less hardy and supportive on his weight than other blends. Aquamarine and Thistle put this uncertainty to rest in a cushy and deep seat, and was replaced with sheer awe. As wraps go, this was as grippy as any tri-blend I had played with from Woven Wings in the past, but with the softness that comes with cotton and it had a real bounce to it, offering some slight movement and less restriction. The knot tying was fluid and left a secure and pleasant end result.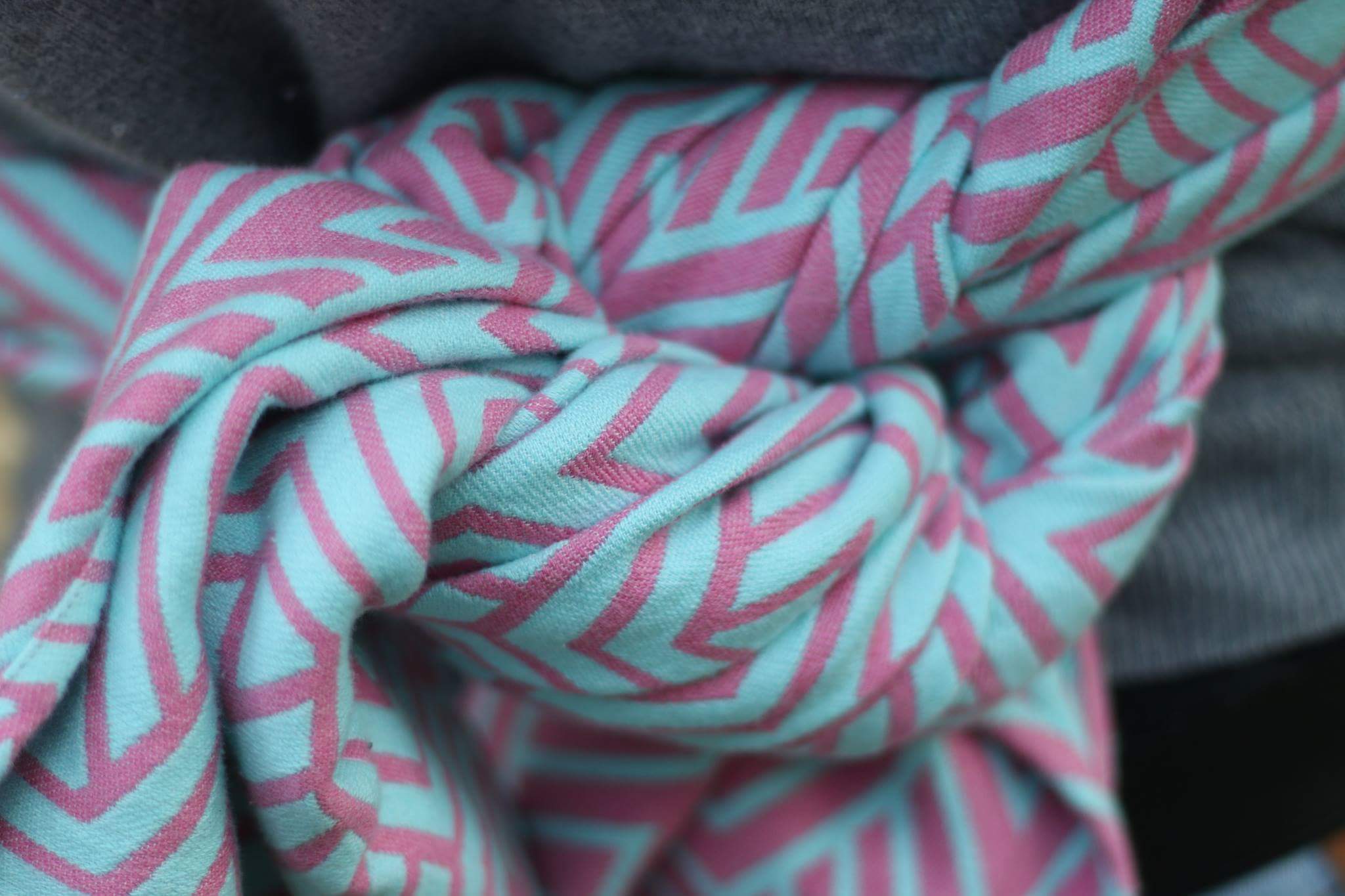 In terms of comfort whilst wearing, it was outstanding for both big kids and a friend's one year old that I borrowed for a front carry. It was a cushy fit on the shoulders, passing with flying pastel colours, the test of a long walk around the city centre whilst we took some photographs, without a hint of back ache in sight. This is a great testament to the blend, firm yet incredibly comfortable.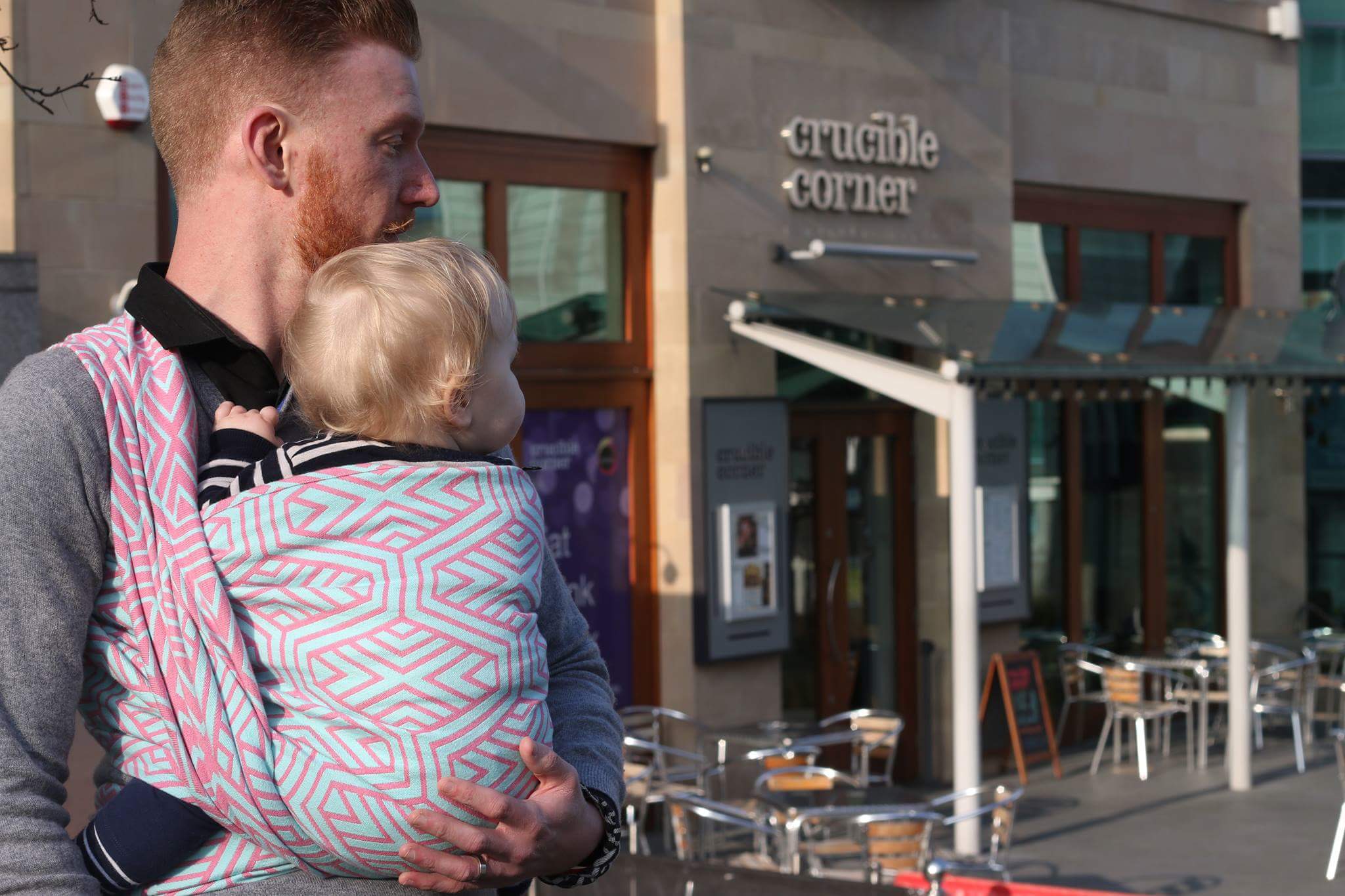 Suitable from newborn to toddlers, Aquamarine and Thistle will be available at the Northern Sling Exhibition in Sheffield on Friday 3rd and Saturday 4th of March. The only difficult decision to make is what size will suit you and your little one best.
Woven Wings are going from strength to strength and if they continue to create visually stunning wraps, with such a thoughtful attention to wrapping qualities, they are set for a future as strong as Sheffield steel.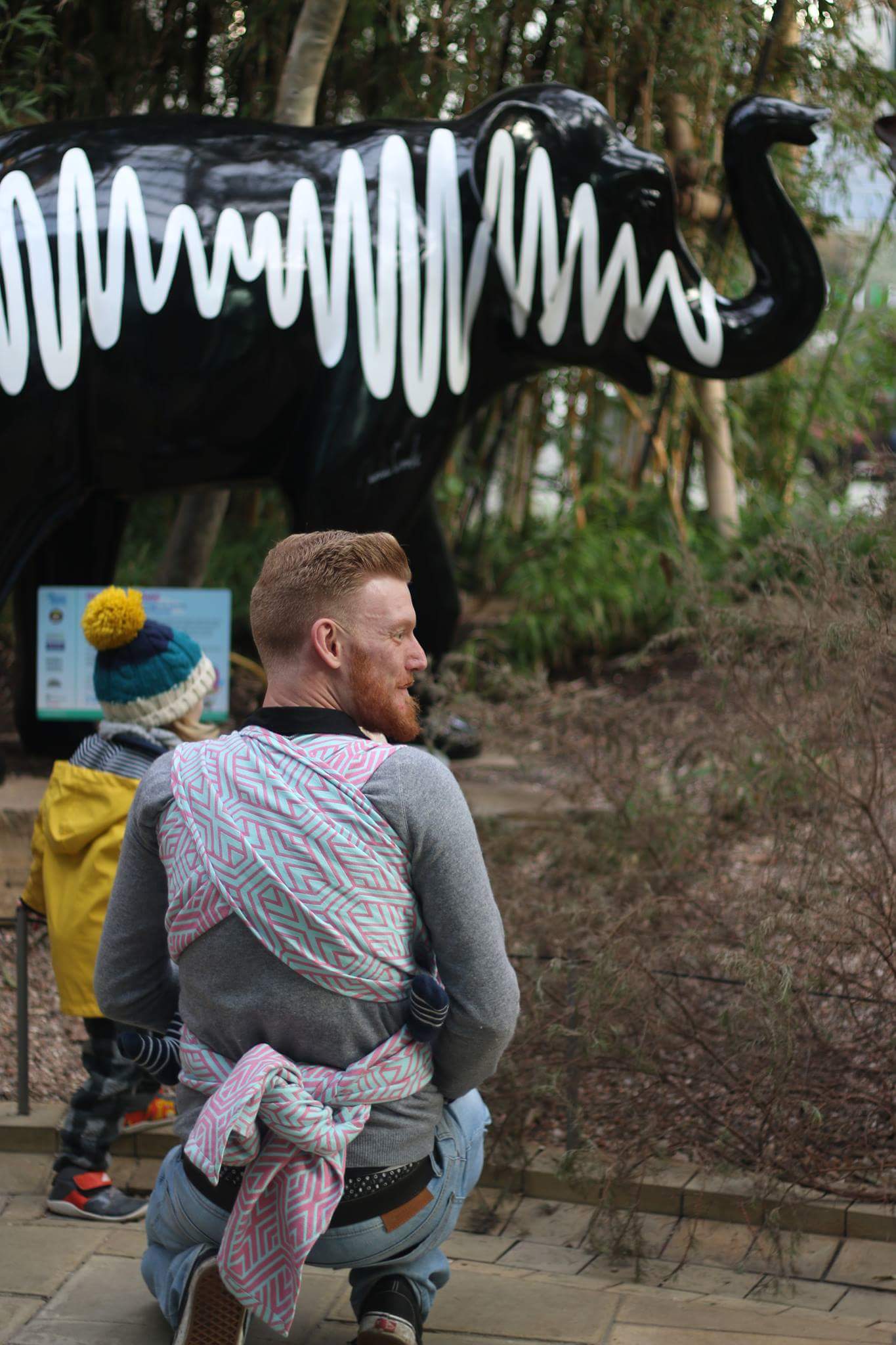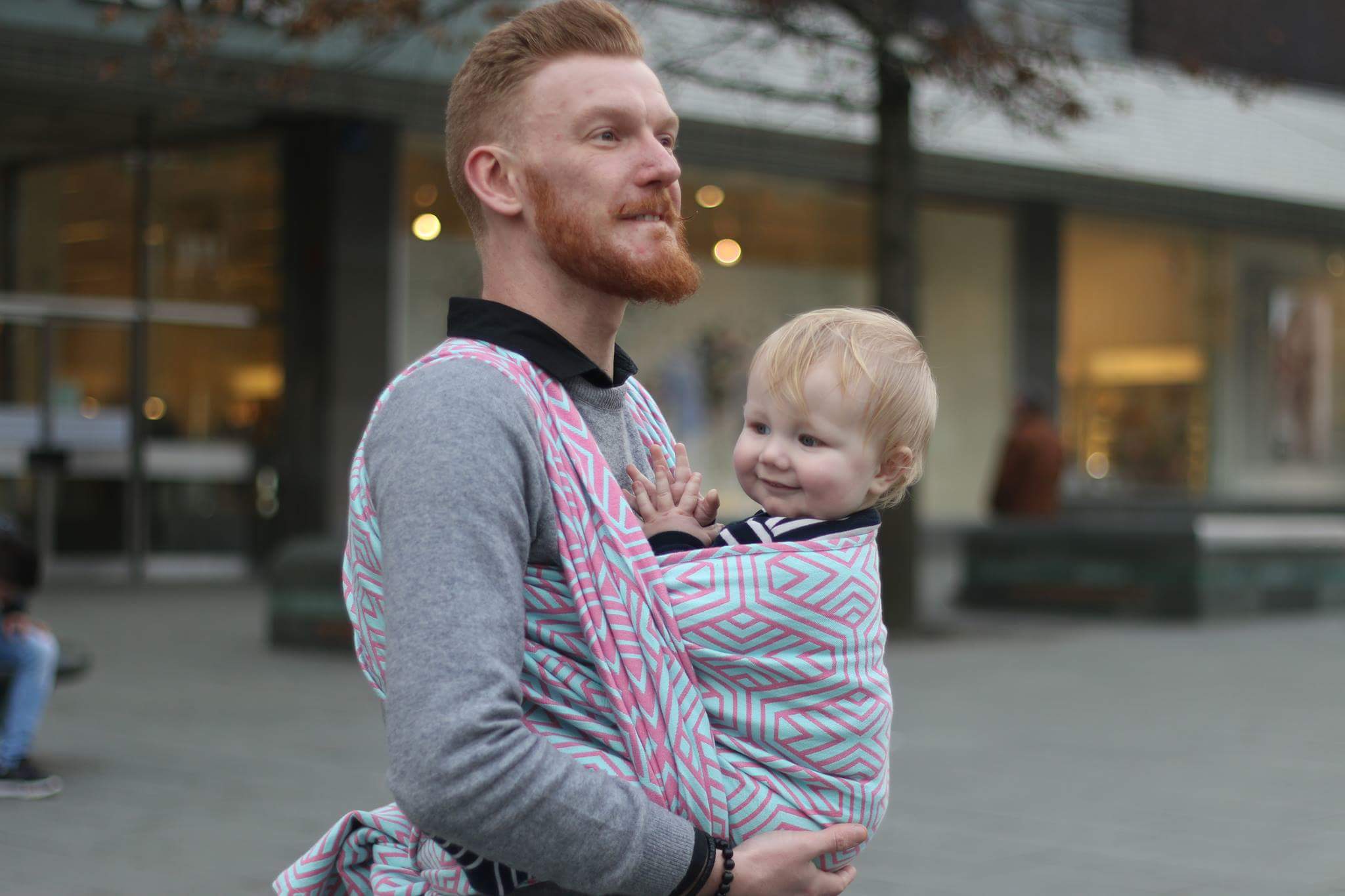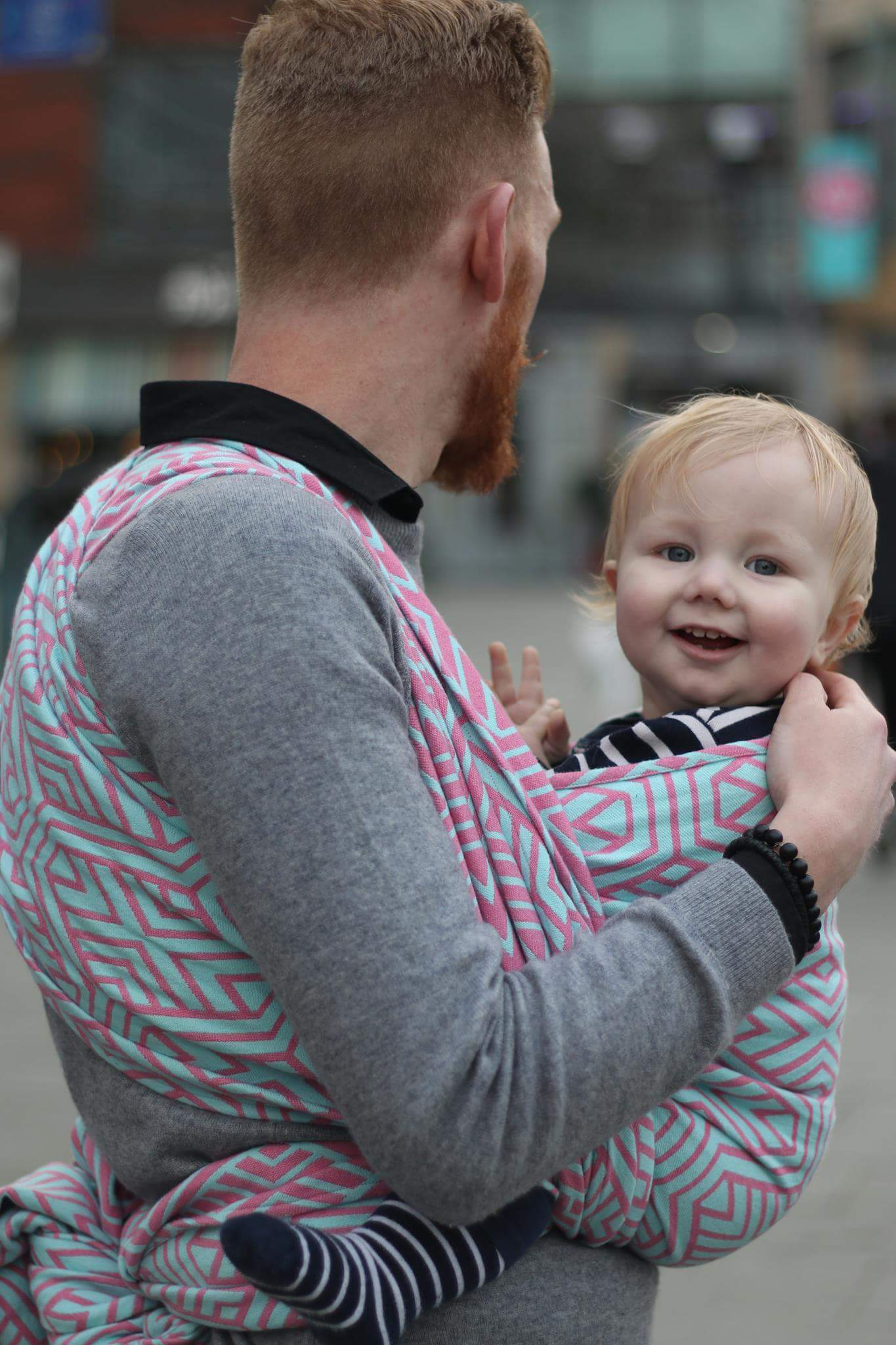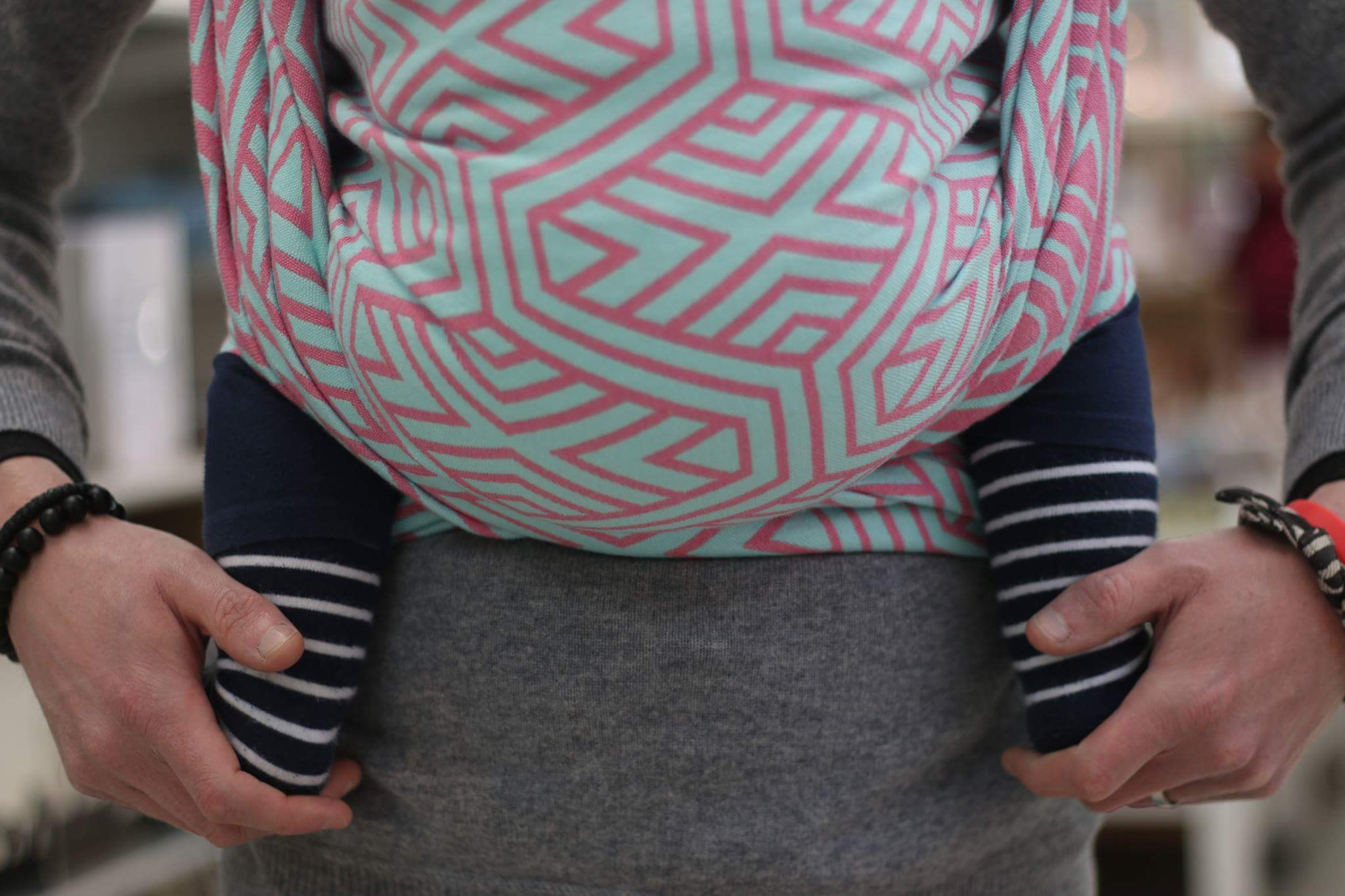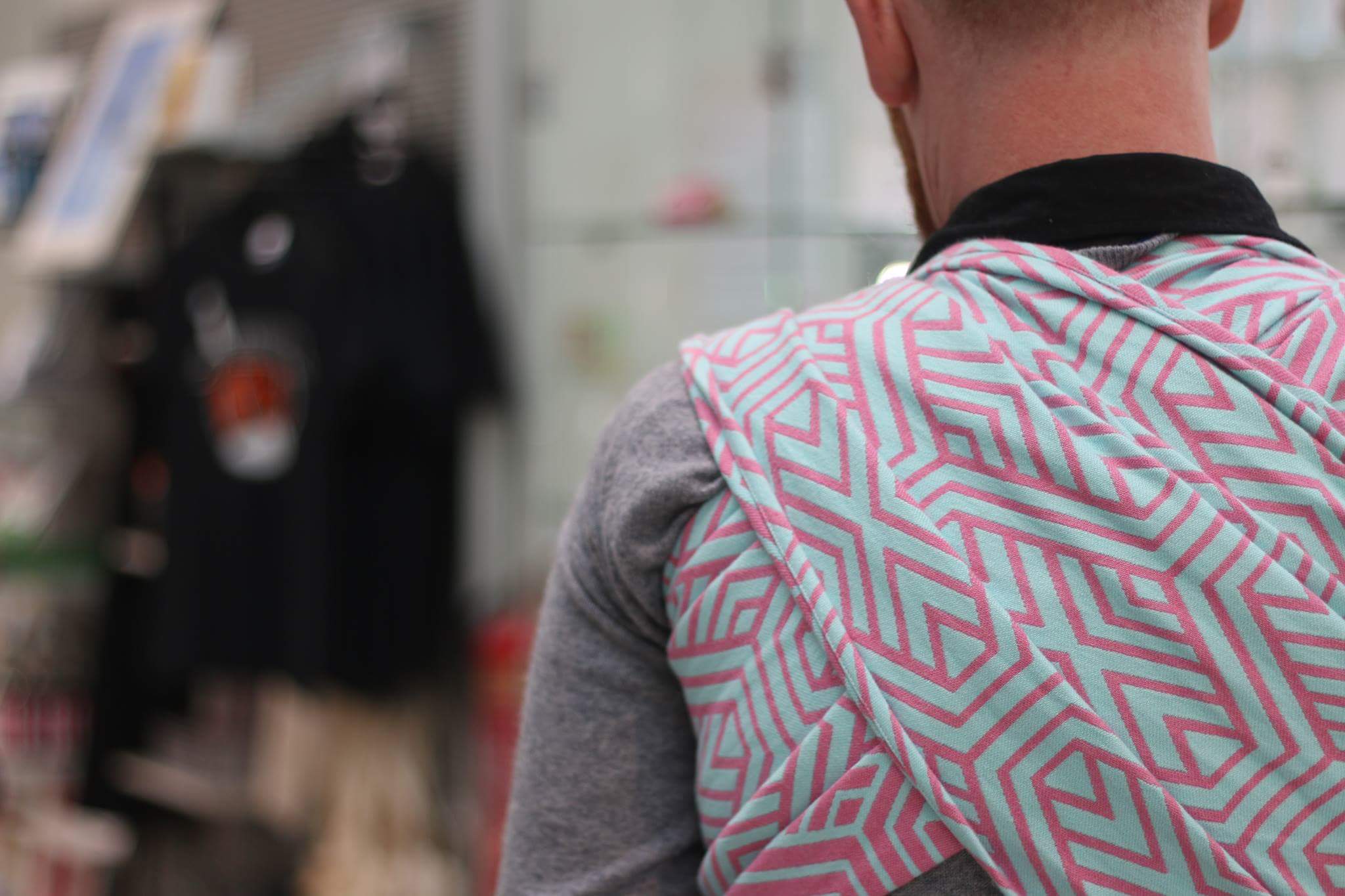 Photographs courtesy of Amy Bower