If Romance is Dead, I am Haunted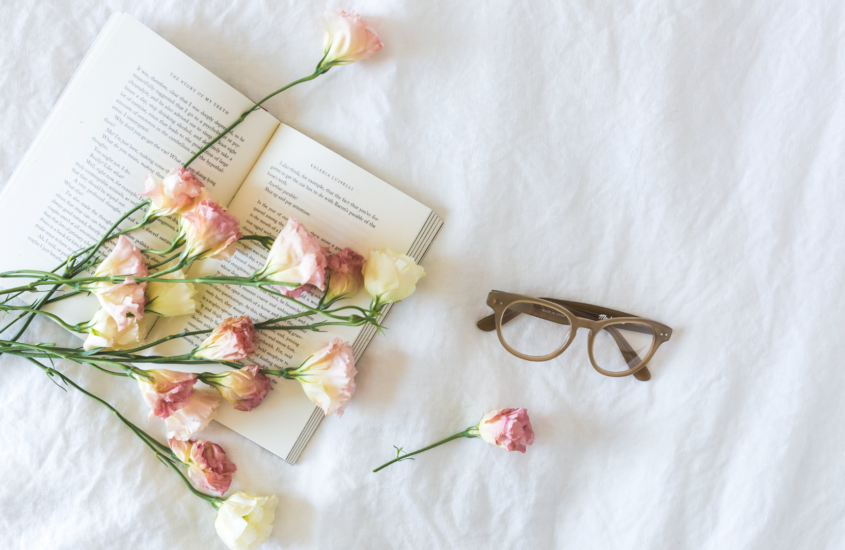 The person who said that "romance is dead" must have experienced a lot of thoughtless relationships.
From a male perspective, being romantic seems to automatically make you a bit effeminate or odd. It doesn't; it shows that you're thoughtful and want to make the love in your life feel special. There's no shame in that. As previously mentioned in a past blog of mine, 'Nice Guys Finish Last?', I believe in treating a woman nicely and for me, romantic gestures provide a physical manifestation of that. It simply shows that you are willing to put effort into the relationship and this can only be a positive thing. A good example of this would be my wedding anniversaries.
Before we got married, I had looked at wedding anniversaries on Confetti and what each year symbolised. I wanted to link the present that I got my wife to the item that represented that year, but had no idea what to buy that was unique. It was then that I had the idea of making a present each year instead. Here's a look at the past four years worth of gifts;
Year One: Paper
My first year was difficult as I had to set a benchmark for future presents and make sure it was clear what I was trying to achieve. Looking at YouTube, I trawled for video tutorials for simple origami rose patterns. Sufficed to say the first attempts looked more liked screwed up pieces of paper than anything beautiful. Finally, after a few attempts, I managed to get an end product I was happy with.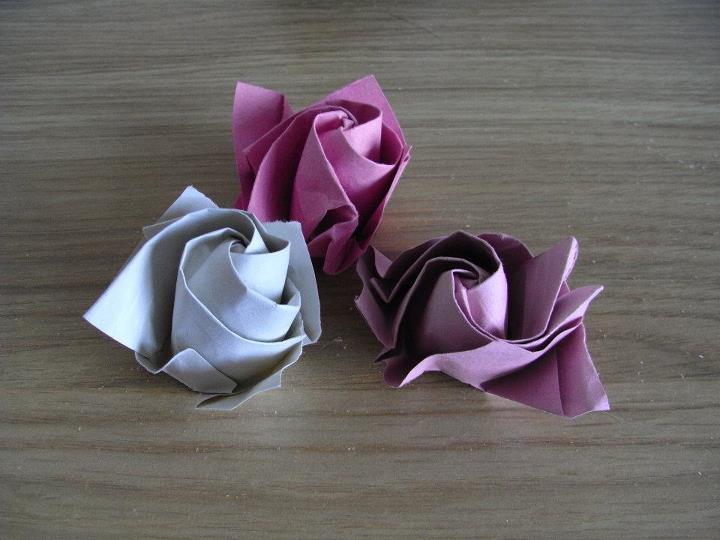 Year Two: Cotton
Next was cotton. If I thought origami was out of my comfort zone, then textiles was a million miles away! This was a great way to really challenge myself, as I hadn't sewn anything since school. The design process went through many different stages until I finally landed on the idea of doing a shopping bag. It needed to be simple in design so that it was simple to make and also didn't look tacky.
Putting the hearts onto the fabric was the least challenging element and much needed addition of colour to the plain cream bag. The numbers "04 04" within the hearts on the reverse signify the day and month that we met.
The key area of difficulty was attaching the front and back panels together and pulling it inside out to make the bag. This is where I sought advice and use of a sewing machine from a good friend who talked me through the process, as I wanted to set a precedent that I would do 100% of the work.
When it was complete, I couldn't have been happier with the outcome and was over the moon with my wife's reaction.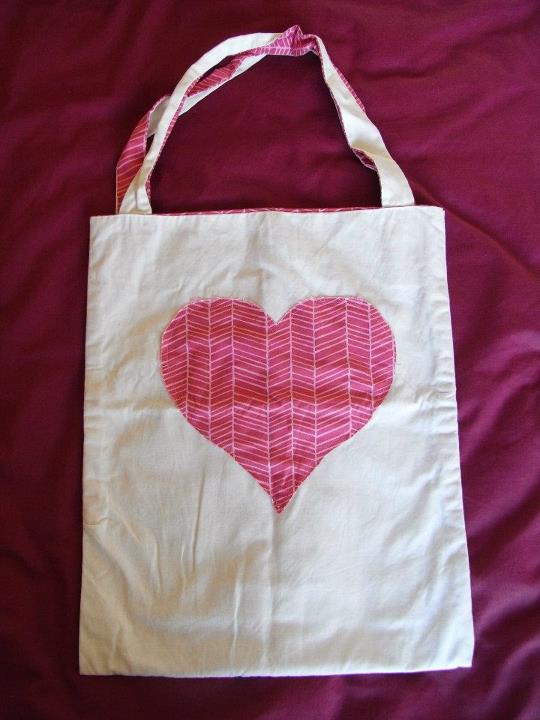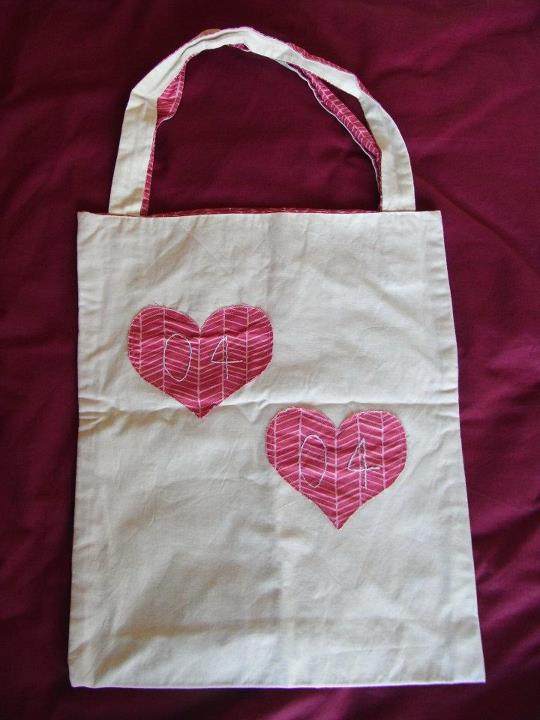 Year Three: Leather
Year three is where it started getting complicated. Leather. Bloody leather. The first thing that went through my mind; 'Where was I going to find leather to even make the present?!' I searched the internet for places that could be suitable and clicked most of Google's suggestions, from sofa shops to handbag manufacturers. I eventually found a leather supplier that, after explaining what I was trying to do, assisted by sending sample swatches to help me decide on thickness and colour. Once I had settled on a black piece in the right density, they shipped this hefty piece to me. When it arrived, it looked like half a cow! It was actually far from it, but was still overwhelming that I would have to make something useful and meaningful out of this chunk of material.
I wanted to continue the shopping theme and make a purse. After purchasing a cheap purse that I could take apart and use as a template, I began the design process. My initial thoughts were to create something with a zip around the outside and then an internal zipped section for coins, with card slots. This proved horrendous to actually put together and was abandoned very quickly. From that point I felt a smaller coin purse may be more appropriate and also more achievable with my level of skill and the tough nature of the material.
My past experience with the cotton bag prepared me for the technical side of producing a pouch-like product and so, the turn over for this was much quicker than the previous year.
I raided buttons to find an adornment to the clasp and used the same pink material for the heart on the reverse, to tie in the purse and bag to make them companion pieces.
In the end, although I was happy with the outcome and the work I had put into making the purse, I felt it wasn't hitting the high standards that I'd set myself. So, I pledged to go as big and grandiose as possible for the next year.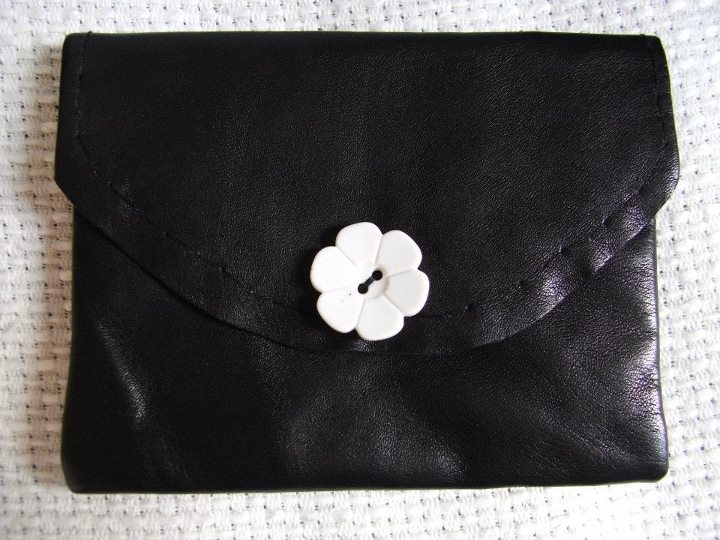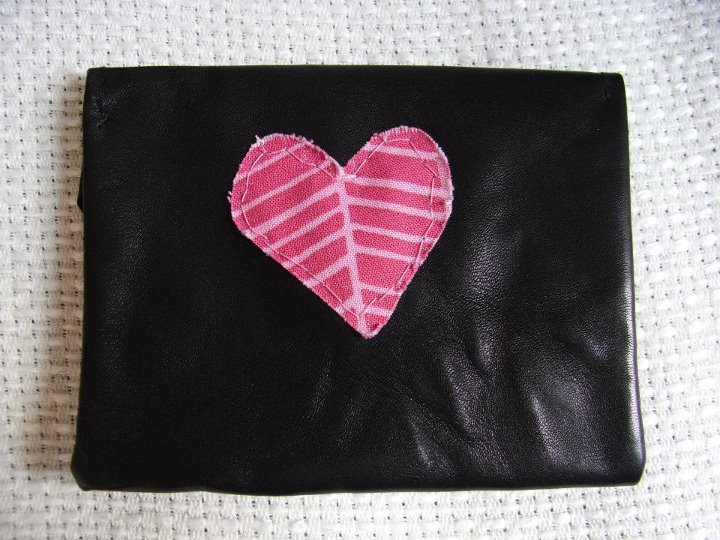 Year Four: Linen
To out do anything I had done before, I needed to think outside the box. I couldn't just make something out of linen and hope for the best, that would be too predictable. So instead I decided to take a non-literal approach and create a present based on the idea of bedroom linens. In this case, a bed runner to decorate the bottom of a dressed bed.
To take advantage of my acquired sewing skills, I wanted to make this more complex by incorporating a patchwork element that would tell the story of our life together so far. Planning this was time consuming, as over the last 9 years we had shared so many monents and life changes, that it was difficult to choose.
Whilst trying to decide on design, I also set myself another task, to find an eternity ring. Now, to provide a quick bit of background information, me and my wife had our first date on 04/04/04 at 4pm (entirely coincidentally), so the number 4 was significant to us. Therefore as this was our 4th anniversary and we had also recently given birth to our son, an eternity ring was traditional and also a little added extra.
With this plan set in my mind, I went to the jewelers that I had first bought my wife's engagement ring and our wedding rings, to see if they could help. I wanted something unique and that I had a certain amount of creative influence. They obliged by giving me the option of having a blank ring, giving me the ability to customise the number of diamonds and add any engraving that was required.
With the ring taken care of, I focused attention on the patchwork. I chose 5 life moments of emotional significance; First house, engagement, wedding, honeymoon and Isaac's birth. God knows how many hours I spent in John Lewis' haberdashery section looking at, and buying, copious amounts of fabric for the details of each patch. The designs for each patch were as follows;
1. First house – close up of our house number against brick.
2. Engagement – Rings of various sizes.
3. Wedding – The date, with use of fabrics close in colour to that of the wedding and bridesmaids dresses. Also including a pocket, adorned with the same pink heart used in previous years, which would hold the eternity ring. I initially wanted the fabric representing the dresses to be the exact fabric, but since the bridal shop had since closed down, I resorted to sourcing some similar in appearance instead.
4. Honeymoon – A suitcase against a sky blue background, with a Chicago 'sticker' on the side of the case.
5. Isaac's birth – This had his birth date and name embroidered, surrounded by elements that were the theme in his nursery. This was the most expensive of the patches, as the theme was unique to a certain shop and therefore I had to buy various items to get the characters to appliqué to the backing.
Once each patch was complete, I simply had to attach them together and then to the runner backing and it was complete. This meant another trip to my friend's house for sewing machine use and advice, which was a complicated process and very new to me, but the end product was worth it.
When the day came, I laid the runner out on the bed and placed the ring in a small bag and in the designed pocket. The reaction that followed made all the effort, stress, secrecy and time worth it. I couldn't have been happier with the end product and the overall surprise.
This year is my wood wedding anniversary and I am currently in the process of the next project, but this is for another blog.
The point of outlining my anniversaries wasn't to show off, wasn't to say 'oooh, look at me!', but simply to describe my own situation and how I like to show my wife that I care. Each relationship is different and big soppy gestures aren't everyone's cup of tea. Of course it doesn't have to be a grand gesture to be romantic, just taking the time to do something thoughtful, no matter how big or small, makes all the difference.
Romance keeps me on my toes and keeps my wife surprised. If romance is dead, there are many people trying to revive it and I am immensely happy to be a part of that.